INNOVATIVE ANALYTICAL
& AUTOMATION SOLUTIONS
FOR THE DAIRY INDUSTRY
BENTLEY INSTRUMENTS DEVELOPS A WIDE RANGE OF INNOVATIVE ANALYTICAL AND AUTOMATION SOLUTIONS FOR THE DAIRY PLANTS AND CENTRAL MILK TESTING LABORATORIES.
OUR EQUIPMENTS ARE USED WORLDWIDE FOR THE CONTINUOUS IMPROVEMENT OF MILK SAFETY AND VALUE THROUGHOUT THE DAIRY CHAIN.
Solutions for the milk & dairy products testing laboratories
Solutions for the milk producers
Rapid milk antibiotic tests
Consumers are increasingly concerned about antibiotic residues in milk. Give them the assurance of the highest product quality by relying on the most thorough rapid tests on the market.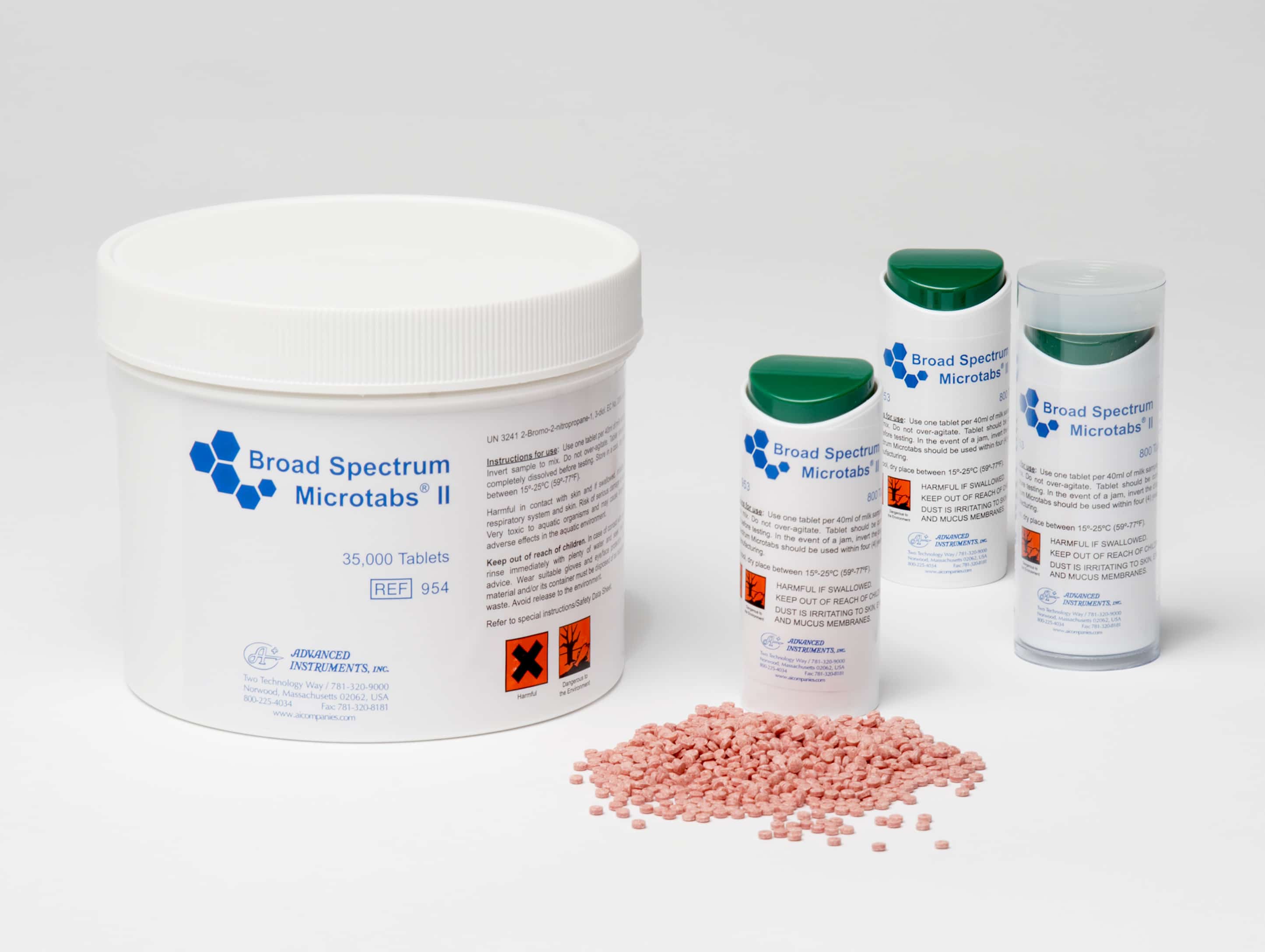 Broad Spectrum MicroTabs
Broad Spectrum Microtabs II (BSM) is a tablet preservative containing a combination of Bronopol and Natamycin which prevents bacteria and yeast and mold. It is used to preserve milk samples, which will be analyzed on infrared instruments. It is an ideal preservative solution for longer-term preservation of milk samples when a short sample analysis turnaround time and refrigerated storage conditions cannot be guaranteed.
Milk Amyloid A Kit
Based on an ELISA technology, the MAA kits determines the Amyloid A Acute Phase Protein content in milk in order to make an early diagnosis of mastitis, reduce the use of antibiotics and preserve animal welfare.
Solutions designed for your needs
The five points of customer satisfaction
Quality
Our instruments are robust, open and upgradable to meet the dairy industry current and future requirements and support their growth over the long term.
Solutions designed for your needs
The five points of customer satisfaction
ROI
Our instruments are used to determine the fine compostion of milk and dairy products and give the dairy industry the power to improve the value of milk and dairy products and streamline production.
Help
We understand the critical role that our equipments play in your organization, and therefore make every effort to respond and assist you quickly in your projects.
Ease
We develop all our solutions to be simple and intuitive to use and maintain.
INNOVATION
Our internationally recognized and protected expertise in the field of dairy analysis offers you exclusive solutions at the cutting edge of the technology.
Innovative Analytical and Automation Solutions for the Dairy Industry
For more than 35 years, Bentley Instruments has specialized in the design and development of innovative analytical solutions for the optimal valorization of milk and dairy products (cream, serum, whey, retentate, yogurt, ice cream, …). Our solutions give the power to implement optimal and rapid quality controls in order to streamline manufacturing processes, herd management, thus providing a rapid return on investment.
We also offer solutions to automate the analyzers and the laboratories for the complete standardization of the analytical chains and systematic and optimised analytical valorisation of each sample.
The objective of this new holistic approach is to anticipate and respond effectively to new requirements and opportunities by providing new powerfull tools for an optimal qualitative and economic valorisation of your manufacturing processes or dairy herd management.
Development & production of equipment for the analysis of milk & dairy products
Development of new applications for the analysis and optimal valorization of milk and dairy products
Development & Exclusive Distribution of Automation Solutions
Worldwide distribution of analytical and automation solutions
Manufacturing & Distribution of CRMs and Total Flora/IBC ISO 17043 Proficiency Tests for optimal methods standardization
IDF World Dairy Summit 2023 Chicago, USA 16-19 October 202329June 2023Dairy IndustryInnovative analytical solutions for the dairy industryBentley Instruments at the 2023 IDF World Dairy Summit! Experience Revolutionary Dairy Analysis Solutions We are thrilled to...